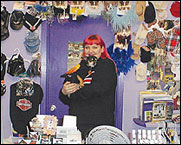 By: AJ Mistretta
Chiwawagaga

It's a problem that's plagued countless Chihuahuas and many a Maltese. Just where do you go to get a good form-fitting outfit these days? Trust the French Quarter to provide an answer to this canine conundrum. Chiwawagaga is "the small store for dinky dogs," the only place where your petite pooch can pick up a costume for Mardi Gras, a tiara for the big ball and a pair of custom shades for a ride to the beach.

In a shop painted purple and packed with everything doggie, Justine Roig talks about how this business developed. Her British accent is engaging, her colorful sense of style unparalleled, as she runs about the store helping customers and telling the tale of Chiwawagaga.

In 1998, Roig's friend and fellow Chihuahua owner Elayne Angel came to her with an idea for a new business. "Neither of us could ever find any items that would fit our little dogs," explains Roig. "So Elayne figured we could start our own business that catered to little pups."

Angel had her hands full with another business but she didn't want to miss out on this opportunity, Roig says. "I think she thought I was the only person with the dedication to see it through and the only person crazy enough to try."

While Angel secured a location for the business near the historic French Market and came up with an eye-catching name, Roig began the arduous task of researching products.

The merchandise in the store is as diverse as the pups and owners who come there to shop. There are snazzy little outfits for a regular day in the park as well as specialized costumes for holidays and events like Christmas and Halloween.

When things heat up later this summer, little dogs can hit Chiwawagaga for original, one-of-a-kind canine swimwear. A friend of Roig's, working exclusively for the shop, creates bikinis in various sizes specially designed for each individual dog.

"If someone comes in with an idea for a costume or something they want for their dog, we do our best to help them get it done," Roig says. "We love people with new ideas, we also love it when they can't sew, so we can do it!"

Since its opening in December 1998, Chiwawagaga has more than doubled its annual sales. Roig says that increase is due in part to satisfied customers who have spread the word about the business, but an even bigger success factor has been the company web-site, which launched in 2001 helping keep sales afloat during the tourism off-season.

The site (www.chiwawagaga.com) offers dog lovers worldwide the opportunity to order from the tiny French Quarter shop. Roig says many people who have visited the actual store while vacationing in New Orleans have returned home and remained loyal customers via the web. "They buy from us, they send us pictures of their dogs in our merchandise, it's wonderful," she says. Roig says customers will make a regular trip to the shop to pick up some treats or toys, or sometimes just to say hello. She says she has several customers who bring their dogs in on their birthdays to get a new toy and then head over to the nearby Three Dog Bakery for a cake.

Finding merchandise can be difficult, Roig says. It involves countless hours of Internet searching and pouring over trade magazines to locate new and interesting products. Sometimes she says, customers will bring in labels from products they have found and liked.

But what makes Chiwawagaga unique is the unique products, Roig says. Leashes, toys and treats are plentiful at any pet store she says, but there aren't too many places where one can find a bikini for a Bichon Frise. In addition, Roig says, those stores that do carry such specialty items often don't stock a wide variety of sizes, sticking mostly to products for larger dogs. "We cater to the small guys because that's what we have and that's the problem we saw," she says. "Many small dog owners like to dress up their dogs and if the item fits then the dog might like it too. But if it's too big or doesn't fit right, then you're just wasting your money." Roig says she and her employees call 90% of the customers who order via the web-site to make sure they've ordered the right size and to let them know about other available colors and designs.

Roig says she's been asked about franchising the business in other cities, but she says she has reservations about expansion. "I know what kind of service customers get here," she says. "If I have another location where someone else is running the show and they are mean to the customers, that will reflect on the name of the shop. Quality control is very important to me."

The location of the shop in the heavily-trafficked French Quarter has also been an integral aspect of its success. Tourists visiting New Orleans comprise a large majority of Chiwawagaga's customers. "When people are on vacation they want shops that are different," Roig says. "They can get a leash at Wal-Mart back home. But we can give them things they haven't seen before. Things that really make them chuckle."

The word "cute" is definitely the declaration of the day in this shop, Roig says. "People come in here and they say Ohow cute', Ooh how cute is that?', Olook how cute that is'. If I had a dollar for every cute ever said in this place, I'd be retired now," she says with a laugh.

Specialty dog stores are not altogether a new breed of retail. But such stores catering to the canine kind in L.A. or San Francisco are often pricey. Roig says she is determined to keep prices at Chiwawagaga reasonable so that every pooch can dress in style.

When folks come to New Orleans they tend to go crazy, and a store like Chiwawagaga feeds into that revelry. "People like to dress up here, they like to wear beads and feather boas. And if they're a big dog lover, or they know one, they want to bring a little bit of that fun to the pup back home," she says.

Meeting new people who share her love for small dogs is what Roig says drives her to continue her shop. She says she's amazed at several doggie "Dads and Mums" who carry photos of their dogs before they carry photos of their children.