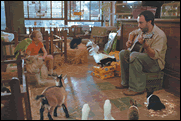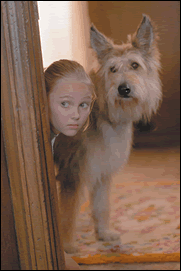 By: AJ Mistretta
Because of Winn Dixie

Think your job is complicated? Maybe a little unusual? Chances are that Mark Forbes, with his cadre of dogs, monkeys, birds and other animals, has you beat.
Forbes is the general manager of Birds and Animals Unlimited, a Los Angeles-based outfit that trains animals for shows at Universal Studios theme parks around the world as well as major motion pictures like 101 Dalmatians, Dr. Dolittle and Harry Potter.
A 17-year veteran in the animal training industry, Forbes admits his job is a bit atypical, and can at times be nerve racking. And looking at the experiences he's had working on various productions through the years, he wouldn't have it any other way.
Take for example one of his most recent assignments that brought him to the town of Napoleonville, La., just 60 miles west of New Orleans. In the film version of Kate DiCamillo's touching novel Because of Winn-Dixie, Napoleonville fills in for a small town in Florida. The story follows a young girl named Opal, played by Hollywood newcomer AnnaSophia Robb, and her relationship with a large, scruffy stray she names Winn-Dixie after the supermarket where they first meet. Befriending Winn-Dixie helps Opal deal with the loss of her mother while the two of them revive some of the magic hidden in the town.
Making magic happen on screen required a lot of behind the camera work. And it wasn't just a dog or two that Forbes had to train for the movie. Several scenes that take place in a pet shop call for dozens of animals ranging from geese to pigs to do very specific things – all at the same time. That's no small task, but it's something Forbes, and his team, live for.
So just how does one become a Hollywood animal trainer?
Forbes was an unsure college student in the mid-1980s trying to figure out what he wanted to do in life when he heard about an exotic animal training and management program at a community college outside L.A. It seemed like a good fit for someone with a passion for working with the four-footed and feathered. He enrolled and spent two years on a compound with about 1,000 animals learning the ins and outs of the business.
After completing the program, Forbes went on to do a dolphin and sea lion show before joining up with the team at Birds and Animals. In the 1990s more and more movies called for trained animals and the company became one of the go-to firms in Hollywood. "Ninety-five percent of the work we do is from repeat customers or word-of-mouth from satisfied customers," Forbes says.
Forbes says five or six major companies like his do most of the animal actor work in the industry today, with dozens of smaller firms filling in the gaps. He said with so many different kinds of animals needed for films, no one company can provide everything and there is a lot of cooperation and subcontracting with other firms in the business.
To find the perfect canine to play the title character in Because of Winn-Dixie, director Wayne Wang (The Joy Luck Club, Maid in Manhattan) turned to the folks at Birds and Animals. "He wanted a unique look in the dog," Forbes says. "Something people hadn't seen before but something that resembled the dog on the front of Kate DiCamillo's book."
One of the problems Wang and producers faced was the need for a back-up dog. "When we found suitable candidates, they were one-of-a-kind originals and we were unable to locate a few look-alikes," Wang says. "The picture's insurers insisted we have several understudies because the dog is in every scene. If he got sick or disappeared or suddenly didn't feel like working one day we would have to shut down the picture."
Forbes and Wang sat down with a dog book and Wang picked out several different breeds he wanted to see. Forbes got to work finding breeders for all the different types of dogs, including the very rare Picardy Shepherd. The Picardy, a large breed named after the region in northern France where it first developed, had been almost wiped out during World War I. Forbes found a handful of breeders in Europe and had an associate working in Britain send over five dogs. From those five, Forbes chose two dogs named Laiko and Scott to train for the film.
"The interesting thing about them was their strengths and weaknesses were exactly opposite," Forbes says. "Scott was very good at the intricate tricks and training stuff, but he was nervous about new situations. Laiko was just a complete goof, not scared of anything but had the attention span of a two-year-old. Usually in movies you end up using one dog 90 percent of the time, but we used each dog 50-50."
Training a dog from scratch for a movie usually takes at least 16 weeks, but Forbes only had 11 weeks to get Scott and Laiko ready for filming. Training is all about time and patience and convincing the dogs that what they're doing is enjoyable and pleases the people around them, Forbes says. "A big part of my job is it has to be fun for them. I can't pay them more money. They don't understand anything other than if it's not fun, they're not doing it."
Pulling the pet shop scenes together posed a particular challenge for Forbes' team who first had to find all of the right actors. "We brought some of the animals from our compound in Florida. But we were able to obtain a few of them locally. … People were really very helpful. If they didn't have a goose, they knew someone who did."
Next came the task of getting animals not used to commands to do what was necessary to complete the shots. The trainers worked with the animals to get them to respond to voice commands and sounds. "First we had to get everything to stay still, and then train everything to run around."
In most movies animals are used in maybe a handful of scenes. In Because of Winn-Dixie one or more animals are in just about every scene making Forbes' work critical to the production. "When you do a movie like this as a trainer, you start way early working with the director and then once you're on set you make friends with all of the other departments because you definitely need their help."
Another crucial component to the film was a believable relationship between Robb and the dogs playing Winn-Dixie. As a breed, Picardys don't take to new people very quickly, Forbes says. He spent a couple weeks just before filming began working Robb into the dogs' training. "It worked out well especially with Scott who was a bit skittish," he says. "Once we got to the set with all of these people around he wanted to hang out with (Robb) because he knew her."
Robb, who has landed several other major acting gigs since completing filming on Because of Winn-Dixie says she enjoyed the experience. "Working with a dog is so much fun. They are such big dogs and they lick you all the time."
The chemistry between Robb and her canine co-stars is evident in the film. The dogs are very expressive, at times almost human-like. Moviegoers are sure to be touched by this return to the timeless relationship between child and dog. Because of Winn-Dixie is set for release this February.
Meanwhile, things aren't slowing down for Forbes and his team. They just began work on a remake of the Disney classic The Shaggy Dog. Other current projects include the fourth Harry Potter movie and a live-action version of the E.B. White classic Charlotte's Web. Prep work is also about to begin on Antarctica, a movie about a sled dog team being filmed in Canada.