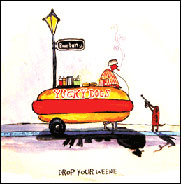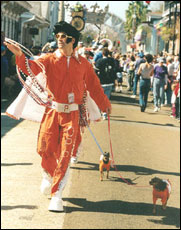 By: AJ Mistretta
Matt Rinard: Drop Your Weenie

He's an artist whose vibrant, whimsical works capture the comic personality of our pets. Today he has his own gallery on Royal Street, is the official artist for New Orleans' Krewe of Barkus and has been commissioned to handle national projects for Anheuser Busch and Southern Comfort. But like so many other artists, his road to success was plagued with disappointments and setbacks.

When he was 22, Matt Rinard returned to New Orleans after some unsuccessful attempts at making it as a graphic designer in other cities. He moved in with his parents and got a job teaching high school down in Buras, La. I commuted there from the city with these three old ladies every day,' he says with a bit of reflective sarcasm. I looked younger than most of the kids I taught and the other teachers were always trying to kick me out of the halls. Those nine months felt like five years. My life was a David Lynch movie.'

Rinard knew he had to find a way to make a living through art.

Art is his life, he explains, his only vehicle for self expression. He had earned his degree in graphic design from Florida State in hopes of becoming a professional artist. But the ad agencies he had applied with for a design position all found his work was too loud' or colorful' for their tastes. After the teaching stint, Rinard realized he would have to create his own business to do what he loved. He started art production company, Spilled Inc., in 1988. It was an off-the-cuff venture he was able to perpetuate through credit cards when his initial pieces turned out to be duds. It was then that Rinard says he realized the value of his parent's opinions on his artwork. I would ask them what they thought and they would say they loved it. I would have it printed and no one would buy it. I had these stacks and stacks of prints and the running joke in the family was that we could use them to re-wallpaper the house.'

Rinard says the problem was he was trying to make things he thought would be marketable. He says it wasn't until he really let go and started working from the heart that he was able to create pieces that garnered some notoriety.

Part of that letting go involved observing what was right before him. A huge animal lover, Rinard says he's found true artistic inspiration in his three dogs: Sam and Sophie, both Miniature Pinschers and Lucy a Miniature Schnauzer. He says the human characteristics one can observe in animals are truly amazing. The way my dogs interact with one another, the way the coordinate to destroy my house together, it's incredible and it's funny. I wanted to capture that in my art.'

And he's done just that. In a number of different works and entire series, Rinard has immortalized dogs and cats in hysteric human action. The pieces allow people to laugh at themselves, he says, especially dog and cat owners who recognize those humanistic traits they see in their own animals.

For example, in the pieces included in his popular 9 Lives' series, Rinard shows the numerous ways a cat gets himself into trouble with a scheming dog who tries his best to dispense of his feline friend. It's been really well received by the public,' he says. It's got this sinister and macabre feeling, but it's funny. People love it.'

Rinard's hugely popular animal works might not have been printed if he had listened to his father's take on his artwork. After finishing one piece that had a few dogs in it, Rinard says he showed it to his dad who told him he liked it but he needed to take out the dogs. I kept the dogs and had the piece printed. It sold like crazy. My dad still tells me it would have done even better without the dogs,' he says with a laugh.

One of the most endearing aspects of Rinard's art is its simplicity. Unlike other modern artists who seem determined to shock or confuse the public, Rinard is much more concerned that people get' his pieces.

There are no smoke and mirrors here,' he says. It's nothing that needs to be explained to you; you either like it or you don't. S I think art is taken so seriously by some people today. My work allows people who may not be too familiar with art to relax and enjoy it, without having to have three art history classes to understand what they're looking at.'

That type of art works well in New Orleans, a place where laid back' best characterizes the lifestyle, Rinard says. People here are very intolerant of pretentiousness. Things that fly in New York or L.A. won't fly here because people won't stand for anything superficial. They like my work because it's matter-of-fact.'

But he admits his pieces have a well-defined and relatively small market base. People either love or hate his work, he says, and that's fine by him. Rinard began creating the prints for the annual Barkus parade five years ago when a friend of his was on the organization's board. When Rinard suggested that the parade should have a print, his friend replied that the budding group didn't have the capital to pay for it. Rinard offered to produce and underwrite the piece, giving 50 prints to the organization to sell and selling the remainder himself with 30% of those sales going back to Barkus. Over the years, the prints have helped raise some major bucks for animal welfare groups like the LA/SPCA and the Humane Society of Louisiana. I really believe as animal lovers we should give back to these little guys that make us happy. And the best way to give back is through something that you do well.'

Today, locals and tourists alike can see and purchase Rinard's prints and originals in his gallery at 738 Royal St. Just like his work, the shop itself is lively, whimsical and a bit weird. It's a must see for animal lovers visiting the French Quarter who want to bring something whacky back home. Folks can also get information about Rinard and his pieces on his website (www.mattrinard.com).

Recently Rinard was picked up by S2 Art, an exclusive, nationally recognized publishing company that represents big name artists like Rolling Stone's Ron Hirschfield. S2 Art will give Rinard the marketing exposure his works need for national success.

This is a great opportunity,' the artist says with a beaming smile that seems to catch on with those around him. I still don't know how some guy in Kansas is going to accept my work, but I hope that what I do will appeal to others looking for fun and different art.' Fun and different, whacky and whimsical. Rinard's pieces may never hang in the Metropolitan Museum of Art, but their capacity to make folks laugh may be just as important.