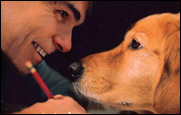 Dean Koontz & Trixie

While he is often pigeonholed as a "horror" writer, Dean Koontz disregards this affiliation, stating that his novels appeal beyond fans of the genre and include people who like thrillers, mystery, adventure, and science fiction. It generally takes Koontz anywhere from five months to one year to complete a novel, and he often works upwards of seventy hours a week. Koontz's inspirations include his favorite author John D. MacDonald, as well as science fiction writers Theodore Sturgeon, Robert Heinlein, and numerous others, including his precious golden retriever, Trixie.
Trixie, a retired Canine Companions for Independence service dog has written and published her own book, Life is Good, (Yorkville Press, 2004) to support Canine Companions for Independence and all royalties from sales of her book are going to that organization. Life is Good is filled with Trixie's fur-covered pearls of wisdom such as "Chasing makes heart strong, the better to love with"
While Dean Koontz was on deadline with yet another book when we contacted him, Trixie is much better at managing her time and was able to take the time out of her busy schedule to answer the Inner Dog Interview herself. We thank Dean and Trixie for their contributions to this issue of Urban Dog Magazine and for their generous support of Companions for Independence


What is your idea of perfect happiness?

Playing in pool with ball, jar of peanut butter nearby, belly rub after am toweled dry, on day when world peace declared.

What is your favorite treat?

Maybe bacon. Maybe cheese. Maybe potato chips. Okay, just say food.

If you could change one thing about yourself, what would it be?

Fewer chin whiskers. Don't want to look like cat.

What is your most treasured possession?
My driver's license. Is forged but fools most cops.

What is your most endearing quality?

Am dog. What could be more endearing?

Assuming there is such a thing as reincarnation, what or who might you have been in a former life?

Shirley MacLaine has all best stuff taken. Maybe me, who is Trixie, was cow once. Sometimes find myself eating grass.

Is there anything that embarrasses you?

That somewhere Dad and Mom have all my poop saved in thousands of blue bags. Am really not that precious.

What is it that you dislike most?

Semicolons. Hate semicolons. Do not understand semicolons, Hard enough for dog to write without having to learn stupid, stupid, stupid rules about semicolons!

What is your greatest fear?

Worldwide kibble shortage.

What is your greatest accomplishment?

PhD. in molecular biology.

What is your favorite place?

Anywhere Mom and Dad are.

What do you really like in other dogs?

An ability to discuss the novels of Charles Dickens and up-to-date rabies shots.

Do you have a motto?

Never miss a chance to share laughs with those you love, because life will give you enough time to share tears.