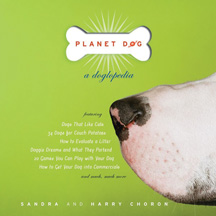 By: Lisa Robinson
PLANET DOG:A Doglopedia by Sandra and Harry Choron
Publication Date: November 1, 2005
ISBN 0-618-51752-9
$14.95 paperback original


For some people---and most readers of Urban Dog Magazine--- the world spins on a slightly different axis, and life is often dictated by a cold nose nudging for a predawn outing, a stray dog hair in your coffee, and that daily race to get home after a long day's work and be greeted by slobbery kisses.

Just when you thought you knew all there was to know about dogs and dogs in popular culture, along comes Planet Dog, a Dogopedia, a fun, engaging, fascinating, compendium featuring tips, trivia, facts, fun and more information about dogs, dog culture and sharing your life with a dog than you can literally wag a tail at.

Planet Dog is a delightfully jam-packed book of more than three-hundred lists
about raising, loving, and living in the world with man's best friend.
Combining the practical, the informative, and the entertaining, this
unique encyclopedic treatment addresses not only the care of dogs
but also their culture, their competitions, their breeding and behavioral
characteristics—even dog people themselves—all in a feisty and easily
accessible guide.


For authors Sandra and Harry Choron, Planet Dog is the next natural step in a progression of books that they have co-authored. They have earned reputations for creating concise, helpful reference books. Their previous collaborations include College in a Can, The Book of Lists for Teens and The All New Book of Lists for Kids

With Planet Dog, the Chorons have managed to compile an amazingly comprehensive collection of canine-infused information ranging from the helpful: How to Winterize Your Dog, Puppy-Proofing your House, 10 Tips to Help Your Dog with a Fear of Thunder, 15 Tips for Keeping Your Dog Safe During a Disaster) to fun, relatively random, useless (but infinitely stimulating and interesting!) dog trivia : The 10 Clumsiest Dogs, 22 Dogs that Drool A Lot, Great Jogging Companions, Doggie Dreams and What They Portend, 5 Hairless Dogs, 34 Dogs for Couch Potatoes, Weird Dog News Items and if you're so inclined, How to Say "Dog" in 27 Different Languages).

I'm the first to admit that I am an absolutely hopeless trivia buff and Planet Dog is right up there on a short list of my favorite books to pick up and peruse for fun, interesting tidbits of useful and useless information. You can literally open Planet Dog to any random page and learn something fun, informative, useful, creative or relatively interesting to talk about at your next cocktail party or other random social engagement. Read the fascinating listing of characteristics displayed by Dog People vs. Cat People (Cat people shop in department stores. Dog People know someone who can get it wholesale). Compare the advantages and disadvantages to owning a purebred dog vs. owning a mixed breed dog. Compile a list of the 10 best and worst dog movies for your next trip to Blockbuster. Amaze your audience with your confident knowledge of the top 10 most popular dog breeds in 16 different countries.

Our favorite Planet Dog tidbits happen to be featured in page 25 and it is our favorite inclusion in the book for obvious reasons. It's called "12 Urban Dog Legends". Need we say more?

We can hardly wait until the Chorons apply their fact gathering skills to their next publishing project.